Once Upon A Time CD
Cat #: EMR 444
Release Date: August 2003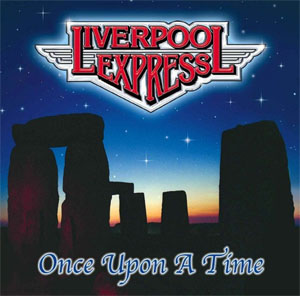 US$23.00 + shipping / 70 reais + correio
Fantastic new music from the legendary 70s British pop/rock band, Liverpool Express, featuring their trademark gorgeous harmonies, melodies, and arrangements make this a must have for all Beatlebabies.
Includes 12-page booklet with all lyrics and photos of the band.
Track Listing:
Chinatown
Out Of The Blue
Once Upon A Time
The End Of The Game
Best Years Of My Life
John George Ringo & Paul
This Door Is Always Open
Tomorrow Is Another Day
Sailin' Down To Rio
Find My Way Back Home
Wherever You Are
The Worst Band In The World
Reviews:
Michael Cimino, Cottage Views
Liverpool Express was, and is once again, the band led by former Merseybeats singer Billy Kinsley and keyboard maestro Roger Scott Craig. Once upon a time in the seventies Liverpool Express, or LEX as they were sometimes known, scored with "You Are My Love," a song that none other than Sir Paul McCartney endears as one of his all time favourites. With major record sales all over the planet (except the US), and three #1's in South America, the group garnered a massive following - and rave reviews - before breaking up at the end of the decade.
Even though it is twenty-five years since the group scored a major hit, and almost as long since they have worked together, the sound they generate is like a welcoming phone call from an old friend. From the tinkling intro of the opening cut "Chinatown" to the final track (the humorous self-parody "The Worst Band in the World") it is obvious that this band has lost none of its Pop sensibility or edge.
The songwriting throughout Once Upon A Time is magnificent and Kinsley's voice is in top form. Given a moment to drift you may even believe that you've discovered a long lost Harry Nilsson track in the soaring vocals of the title song, or unearthed an Alan Parsons gem in "The End of the Game."
With a number of memorable numbers, Once Upon A Time is truly a remarkable recording - especially considering this is 2003. Very few contemporary recordings carry the quality of craft exuded in tracks like the tributes to their greatest success ("Sailing down to Rio"), their greatest influences ("John George Ringo & Paul"), or their own growing up ("Out of the Blue").
If you've surfed long enough to find this site don't cut yourself short find Liverpool Express, order a copy, and listen long enough to find yourself with a content smile on your face.